Hands in Service Ministry: Lutheran Church of the Resurrection
---
February 5, 2015 /
Home-Improvement Ministry
---
At Lutheran Church of the Resurrection, serving boldly means getting salty. "Jesus calls us to be the 'salt of the earth,'" Vicar Sam Maconachy says, "each person adds their own flavor. Serving boldly is being the salt that makes the dish stand out—it makes people hunger more for it." Serving boldly is about using all flavors to season our neighbors, communities, and churches with the Gospel in ways that keep people coming back for more.
Six years ago, Resurrection began reaching out into the community to meet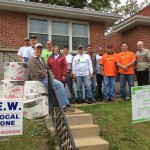 people where they were: their homes. With the help of a grant from Lutheran Foundation of St. Louis, Resurrection began their Hands in Service ministry where they serve members of the community by doing home repair projects that include everything from raking leaves to repairing tornado damage. With funding from the grant, Resurrection purchased a trailer and various tools to make their ministry happen. "What's great about Hands in Service," Vicar Sam says, "is that it's completely mobile. The Hands in Service logo is painted on the trailer so it's visible in the community. People we've served tell us of their friends and neighbors who may need a repair, or people hear about it and come to us."
According to Vicar Sam, the people at Resurrection not only serve those in the community, but they motivate those they serve alongside. "The people in this congregation encourage one another to use the gifts they've been given. Sometimes others can see the gifts that God has given you better than you can, and these people build one another up by pointing out those gifts." Since members already know how to identify and encourage the use of their talents, they have decided to use the SERVE BOLDLY initiative as a motivating effort to spur even more to service in order to achieve the ministry's next goal of rebuilding a house. "We're planning on partnering with Rebuilding Together St. Louis to rebuild an actual house, and we're hoping SERVE BOLDLY will be that shot in the arm for even more people to come and serve," says the vicar.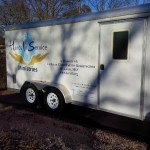 When asked how he sees God moving in the Hands in Service ministry, Vicar Sam responds by saying that God continuously provides the work and the people with the talent to keep doing it. "The biggest insight for me has been that this work never ends. With houses or with people, they may look put-together and fine on the outside, but they can be broken and falling apart on the inside. You have to keep your Christ-lenses on to see that the work is never finished."
*To learn more about Resurrection's "Hands in Service" ministry, visit their website at www.lcrstl.org or call the church office at (314) 843-6633.