---
April 21, 2015 /
Family & Youth Ministry
---
By Bailey Morgan, former Intern, Send Me St. Louis
"The LORD gives strength to his people, the LORD blesses his people with peace."  PSALM 29:11
Sometimes our strength comes in the form of a helping hand, an encouraging word, or a simple act of kindness. Other times it comes on four legs with big brown eyes. Everyday Noah the comfort dog from Timothy Lutheran Church in South St. Louis City provides a glimpse of what life was like, and what life will be like, when all of Creation lives in God's calling.
"I first learned about the idea of Comfort Dogs from a news report on the Sandy Hook tragedy," says Sue Nielsen, who with her husband, Glenn, is Noah's primary handler, "They were featuring a story about the dogs going into the schools to be with the children and families as a form of comfort and all I could think about was how St. Louis could use dogs like that." The possibility of having a comfort dog ministry at Timothy Lutheran Church came to front when the Nielsens noticed that a comfort dog would complement the senior care and nursing home outreach ministries that the congregation was already doing.  After discussing the idea with the pastors and congregation members, it was decided that getting a comfort dog through Lutheran Christian Charities Comfort Dog Program would be a perfect fit for Timothy.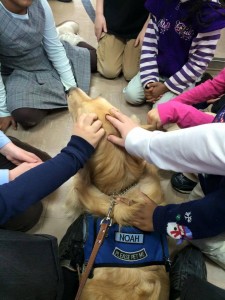 The K9 Comfort Dog Program at Lutheran Christian Charities (LCC), based in Chicago, Illinois, raises and trains Golden Retrievers (and their handlers) to be certified comfort dogs which are then sent to congregations around the country to serve communities in need of healing.  Currently there are 80 dogs that have graduated from the training program across the nation, including Noah, the only comfort dog in the St. Louis area.
With the help of a Mini Grant from Lutheran Foundation of St. Louis, Noah came to Timothy Lutheran Church in July 2014 and since then has become a favorite visitor of local adult day cares, nursing homes, children's hospitals, and Concordia Seminary. Between scheduled visitations, Noah is out and about with his humans (of which he has 6 certified handlers) meeting and greeting the residents of St. Louis in shopping malls, grocery stores, and every Sunday service at Timothy. "Noah serves as a bridge to people who, without him, we would probably never reach," says Sue.  "It is so much easier to ask that person at Walmart who may look like they're having a rough day whether or not they'd like to pet my dog, rather than just asking them outright how they're feeling."
Sue went on to describe how when she introduces Noah to people and explains what a comfort dog is, more often than not they begin to open up in ways that could not have happened without Noah being there to inspire the feelings of safety and reassurance. "After each encounter with a person, I always ask if I can pray with them. It turns into a wonderful way to share the Gospel." Noah and his handlers are not just serving when they have scheduled visits, but they are SERVING BOLDLY by seeing their everyday life as an opportunity to serve.
Noah also travels with other comfort dogs to other communities in need.  Recently, he traveled to Nashville, Illinois where he and other LLC dogs went to support a young girl who survived a plane crash when the rest of her family did not. There, Noah visited her school and the fourth-grade class of her younger sister.  "The presence of the dogs is incredible," shares Sue, "One dog makes an impact, but when you get a group of them together in a room their calm presence is unbelievable."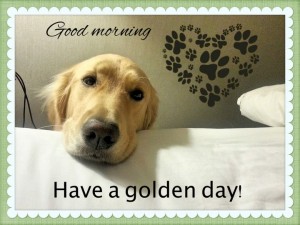 When Noah is not actively visiting hospitals or nursing homes, he does what other dogs love to do: play fetch, run in the yard, and sleep in his favorite spot. "Noah lives with us just as if he were our own dog," says Sue, "He has two sets of caregivers. We are his primary caregivers, and his secondary caregivers are also members of the congregation, with whom he visits with regularly." He also works with six trained handlers throughout the week, which adds more unique opportunities in this ministry. "Each handler focuses on populations or settings that are special to them," reports Sue, "One handler had been touched by cancer, so the oncology unit at the hospital is a frequent stop when Noah is with him. Multiple groups of people can be touched by one dog simply because of who he's with."
Because of Noah's impactful work, three other St. Louis area congregations have begun the process to get their own LCC comfort dogs, and are expected to being their ministries within a year, so keep an eye out for more dogs sporting the blue LCC comfort dog vest.  But what is next for Noah? "Eventually we are hoping to get him double-vested," says Sue. "That means that he and a handler will get certified to work with another specific population. We have a few veterans in our congregation and we would love for Noah to begin working with them and that community. When working with vets, Noah would wear a camouflage vest." In the meantime, be on the lookout for Noah and his blue vest and be sure to give him a good scratch for all the service that he and his handlers do!
If you would like to learn more about Noah, Lutheran Christian Charities K9 Comfort Dog Program, or Timothy Lutheran Church, visit the church's website. To keep up to date on all of Noah's visits, "Like" his Facebook page!