Mt. Calvary Lutheran Church: Thinking Creatively to Realize Your Vision
---
May 1, 2018 /
General Ministry
---
In 2015, in a situation not uncommon to many churches and nonprofits, Mt. Calvary Lutheran Church found themselves in a state of financial crisis. Things were changing and they could no longer fund their preschool with their general budget. Not knowing how to best handle their situation, they decided to put together a strategic team to brainstorm ideas. Through many conversations, and help from Send Me St. Louis, they were able get clear on their vision – "Transformed People; Transformed Communities" – which would guide future ministry and fundraising efforts.
Mt. Calvary knew they wanted to better engage their local community, while also financially supporting their preschool (which serves the community). However, in the past, the church and preschool had two very separate "communities," rarely finding overlap other than those church members whose children attended the preschool. Because of this, Pastor Will Hanke says, "We knew the church could not do fundraisers in an unchurched culture, but our preschool could. Because of our vision, we felt encouraged to reach out to local donors to help with these events so we could transform the community."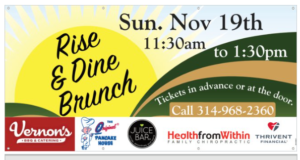 Pastor Hanke began building relationships with key community leaders and local business owners and in November 2017, Mt. Calvary held a "Rise & Dine" brunch to celebrate the preschool. Local restaurants donated the food, about 150 people attended (mostly church members and young families), and all proceeds went to the preschool! With such success, and barriers between church and community being broken, it was evident that with a little creativity, the church could both realize their vision AND support the preschool through their fundraising efforts.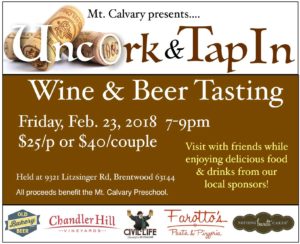 In February 2018, after continuing to grow relationships with local vendors, Mt. Calvary held a beer and wine tasting event, "Uncork & Tap In," to reach a different demographic they might not otherwise engage. More than seven different vendors chipped-in to support the event and about half of the 80 people in attendance were non-church members! A good time was had by all, and all proceeds, once again, went to support the preschool.  According to Pastor Hanke, the success was far more than dollars raised. Vendors have asked, "When is the next one? We absolutely want to be a part of it!" and a local school wants to auction 20 tickets at their next event.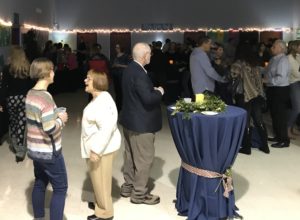 Perhaps even more substantial, though, is the response from one attendee and her friends. "To be present in the community, I often work from local coffee shops or restaurants," says Pastor Hanke, "and while doing so, I get to know their staff. There's this one server I frequently talk to and have invited to church or fundraising events, who says she'll come sometime, but hasn't. Well, I invited her to the tasting event and she actually came AND she brought three friends with her, all who were surprised a church would be putting on such an event. They had such a good time and have expressed interest in similar events in the future. These are people who otherwise may never come into the church or come in contact with the Gospel! These relationships are really what it's all about."
Even though these events were born out of financial struggle, Mt. Calvary has learned that God has been using their problems to help them become more community-focused. "We've found creative answers that didn't just fix our problems, but also provided a way to reach our community in places we have never been able to before."